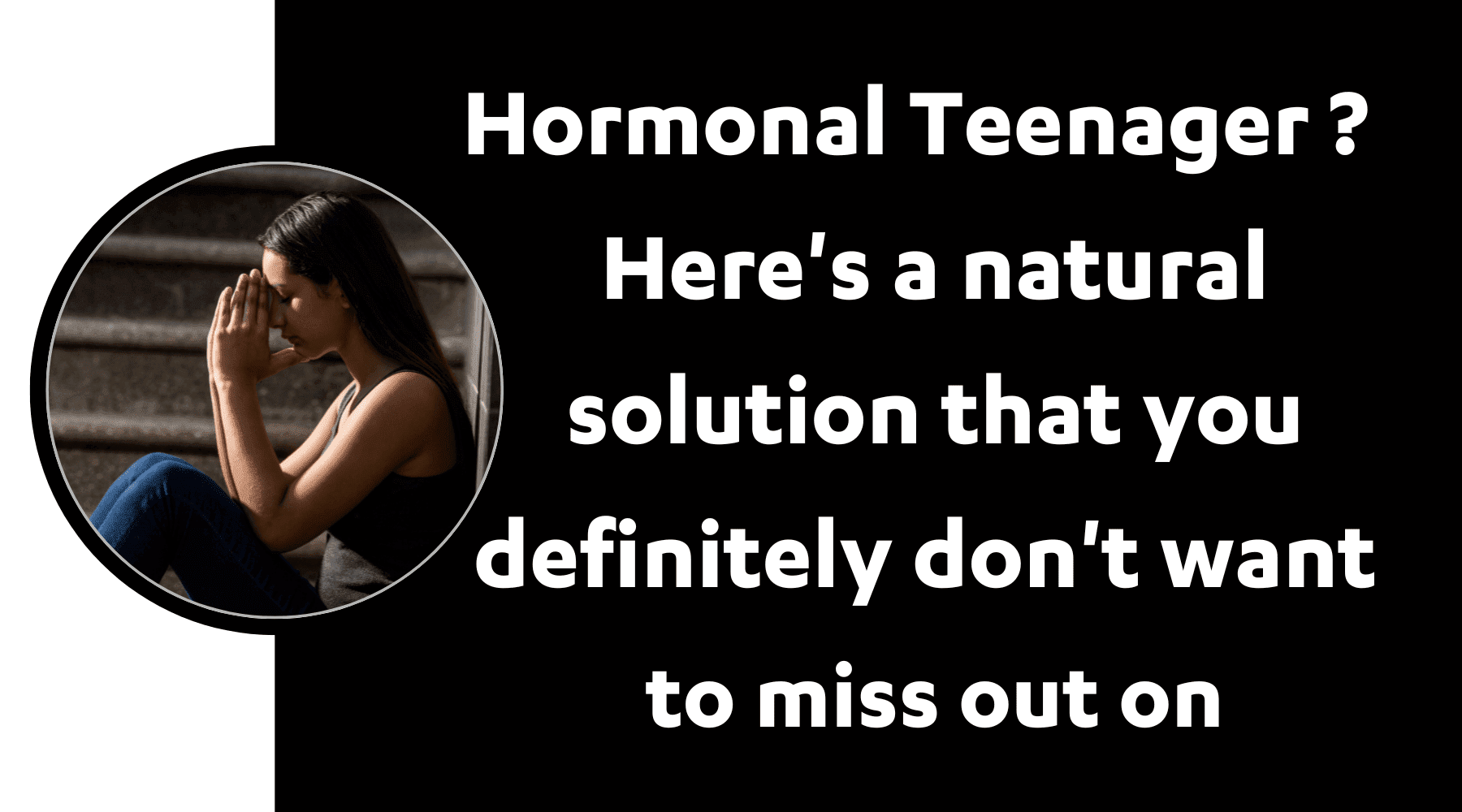 Hormonal Teenager? Here's a natural solution that you definitely don't want to miss out on!
Hormonal imbalance is more common than you think
Teenagers can be difficult to deal with at the best of times, but when you add an imbalance of hormones to the mix it can become almost intolerable.  Not only for us but think about it from your daughter's perspective who may feel like she is trapped inside her body with little to no control over how she feels and behaves. 
I remember this experience myself as a teenager.  Happy one minute and completely losing my shit the next, without any understanding of why it happened…..damn hormones!!!  In fact, my Dad (a quiet introverted fellow that would never say a bad word to anybody) put up a sign on my door that read "Moody Bitch – Enter at own risk!"  Damn, I must've been bad!!!
So keep in mind that the vast majority of your teenagers witch-like behaviour is out of her control.  When the body goes through puberty there is a surge of oestrogen, progesterone, and testosterone into your daughter's body which will feel extremely foreign to her.  Not only that, but these hormones will take some time to become balanced and work in sync with each other. 
With the flood of ever changing hormones, it is not surprising that she may experience episodes of moodiness, emotional outbursts, and experience menstrual cycle and skin issues along the way.
It is not uncommon for a teenage girl to have an imbalance in her hormones to begin with. The body takes some time to synchronize everything.
What are the signs and symptoms of hormonal imbalance?
Irregular or heavy periods
Fatigue
Emotional outbursts
Weight gain
Facial hair growth
Acne
As a teenage girl, your body goes through many changes as you enter puberty and your hormones begin to fluctuate. Hormonal imbalances can occur when there is an abnormality in the way hormones are produced or regulated in the body, and can cause a range of symptoms.
What are the most common hormonal imbalances in teenage girls?
Polycystic ovary syndrome (PCOS): PCOS is a common hormonal disorder that affects many teenage girls. It is characterized by high levels of androgens, a type of male hormone, which can cause irregular periods, acne, excess hair growth, and weight gain.  For more information on this condition and 

Thyroid disorders: The thyroid gland produces hormones that regulate metabolism, and when the gland is overactive or underactive, it can cause hormonal imbalances that can lead to weight gain or weight loss, fatigue, and changes in mood.

Premenstrual syndrome (PMS): PMS is a group of symptoms that occur in the days leading up to a girl's period. It is caused by changes in hormone levels, and can cause mood swings, bloating, breast tenderness, and other symptoms.

Endometriosis: Endometriosis is a condition in which the tissue that lines the uterus grows outside of the uterus, causing pain and discomfort. It is caused by hormonal imbalances and can also cause heavy periods and infertility.
If you are experiencing any of these symptoms or suspect that you may have a hormonal imbalance, it is important to talk to your doctor. Your doctor can perform tests to determine the cause of your symptoms and recommend appropriate treatment if required.  
What causes hormonal imbalance?
There are some theories out there that suggest that the synthetic hormones in food containers, processed foods and the environment, in general, contribute to the hormonal imbalances experienced by this generation.
I am more inclined to think that the diet of this generation is not providing adequate nutrition to supply the building blocks required to produce the levels of hormones needed to get through puberty, which is more of an ongoing issue than a quick fix scenario.
What alternative options are there for helping the hormones get back into balance?
The answer is yes.... Bitch Off!  Aptly named, as we invented this natural product when our 12 year old daughter was refusing to go to school because her hormones were so out of control that she was getting her period every 2 weeks.  She was afraid that her period would come at any moment and being new to high school, this came with too much anxiety for her to cope with.  Clearly I knew I had to come up with something quickly to help her get her life back on track.  As a Chiro with over 20 years of experience, I knew exactly what herbs she needed and what vitamins and minerals I needed her to take, but there was no way a twelve year old was going to swallow herbs and capsules. 
I decided to try and put these herbs, minerals and minerals into a jojoba base and try rolling them on her skin in the hope that they would enter her body transdermally (via the skin).  I researched some powerful essential oils as well that are renowned for assisting on the hormonal front and mixed them in for good measure.  Low and behold it worked, her period didn't arrive for 28 days and has been like clockwork ever since.  What was even better than this was how her mood stabilised.  She actually became pleasant to be around again.  We then offered samples of B!tch Off! to the mothers in our mothers group and they tested in on their girls with raving results.  One child hadn't been getting her period for months and everything normalised the following month.  One of the Mum's even used it herself and noticed her moods lifted and she no longer experienced hot flashes.  We have since had great feedback from our online community with over 100 ⭐️ ⭐️ ⭐️ ⭐️ ⭐️  reviews.
It is important to remember that hormonal imbalances are common in teenage girls, and with the right treatment, you can manage these symptoms and help your teenager feel your best, and move through this transitional period with ease. So, if your daughter is experiencing any symptoms of hormonal imbalance, don't hesitate to give nature an opportunity to bring her back into balance using B!tch Off.