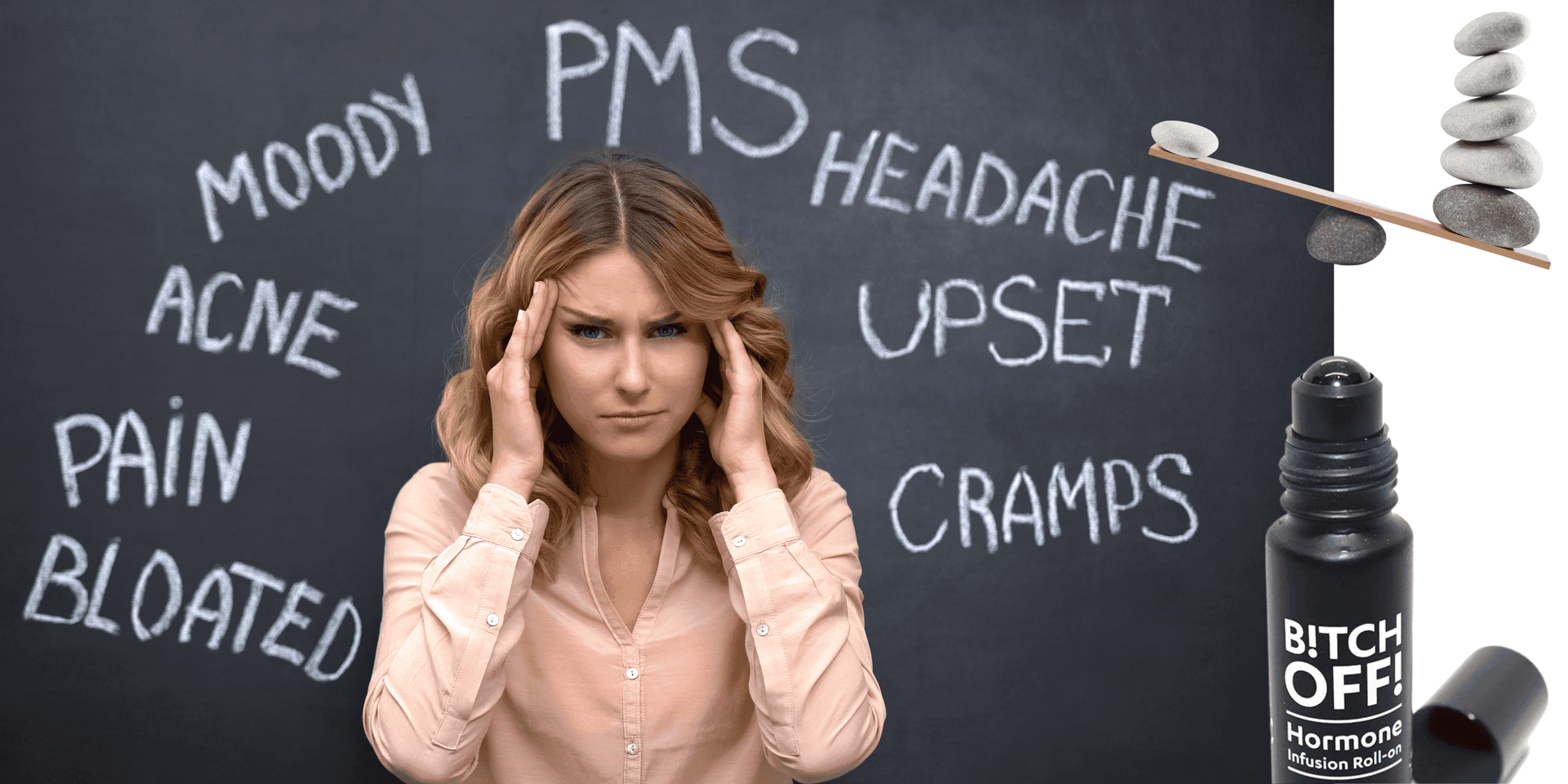 Hormonal imbalances, including PCOS, what are the signs?
Do you want to get your B!tch off?  An amazingly beautiful smelling infusion of herbs, vitamins, minerals and 100% essential oils, all specifically chosen for their hormone balancing properties. Mood Swings, PMS, Irregular Cycles, Emotional Instability, Menopause, Hot Flushes, Acne
In the video
01:04 - Talk about hormones
04:13 - Periods and irregularity
04:56 - Other Symptoms
06:16 - Product Description
09:13 - What are some other symptoms?
12:47- Polycystic ovarian syndrome
16:35 - Question Answer Session with live Audience
25:58 - Acknowledgement
01:04 - Talk about hormones
We've all heard about irregular periods, right? And we've all heard of extremely heavy ones, PMS, and being grouchy and irritated. There may be some more symptoms that aren't as widely known. Aches and imbalances in the muscles, as well as tightness and stiffness and inflammation in the body, joint stiffness, might also be symptoms of a hormone imbalance. If you have any signs of hormonal imbalance, you should drink extra water.
04:13 - Periods and irregularity
Hormonal imbalance - Hormones in your body do an enormous amount in our bodies.   I know we always think of it as female related and periods and irregularity, moodiness, and all the rest of it, but there are a whole bunch of things that are related to our hormones and how they affect our bodies. As a result, it is super important to understand what these other symptoms are. Because you may not realise that it's a hormone imbalance, or you might be sitting there wondering if we do have a hormonal imbalance or whether it's something completely different.  Aches and pains and muscular soreness, which no one would know to put down to potential hormonal problems.
04:56 - Other Symptoms
Sweating is another thing that might happen in your body as a result of hormonal changes. So, when we talk about the opposite end of the spectrum, the peri-menopausal/menopausal, we certainly talk a lot about hot sweats and that type of thing, but an alteration in your temperature and your sensitivity to temperature is also discussed. Extreme hot and cold temperatures might also indicate a hormonal imbalance. As a result, it's critical to acquire a sense of what's going on. It might also have an impact on your bowel motions. It might make you constipated or make you go to the toilet more frequently. This is the problem with hormonal imbalance.
When we talk about an imbalance, we might mean excess oestrogen and low progesterone. It might be a case of excessive progesterone and low oestrogen. As a result, it may have a dual impact on your body. It has the ability to make you hotter or cooler. It might cause you to gain weight. It has the potential to cause you to lose weight. Unfortunately, it is more often weight gain, but these are the sorts of things that occur when your hormones are out of sync and unbalanced.
06:16 - Product Description
The product has a natural and pleasant fragrance. It's really nice; it contains vitamins, herbals, and minerals. It also contains essential oils, all of which have medicinal potential. The goal of using all of those components is to help balance the hormones.  Oestrogen, progesterone, and testosterone are all present in our body and when they are out of balance; your body has a problem. However, the goal here is to provide your body with the things it needs to maintain that balance. So, rather than taking a medicine or a pill that raises your progesterone or oestrogen levels synthetically, this helps your body naturally by providing the building blocks for hormonal production, which then allows your body to start the balancing process. 
Your body is capable of having precisely regulated hormones, temperature, and blood pressure etc. However, precise elements are required to ensure everything runs smoothly.  If we are deficient in anything, imbalances occur, which lead to symptoms.  That's where this roll on shines!  It provides the vitamins and minerals that are required for hormonal balance to ensure you're replenish what is lacking, as well us some herbs and essential oils that have been found to be beneficial in encouraging female hormonal balance. Don't be tricked into thinking natural products aren't powerful, indeed they are.   In fact, the results our community members are feeding back to us is beyond our wildest expectations!
09:13 - What are some other symptoms?
Other things that happen in your body include hair loss. As a result, you may end up with bald patches. Less hair on your head, but more hair in other places, such as above your lip and on your face.  Sadly hormonal abnormalities can also result in a puffy face. So there is some fluid retention in the periphery, in your hands and feet, but it is most obvious in the face. Nobody wants to wake up with a puffy face every morning.
Most of the symptoms of imbalance are really obvious like issues with your periods, heavy periods, clotting and irregularity in your menstrual cycle.
12:47 - Polycystic ovarian syndrome
Polycystic ovary syndrome (PCOS) is a hormonal disorder common among women of reproductive age. Women with PCOS may have infrequent or prolonged menstrual periods or excess male hormone (androgen) levels. The ovaries may develop numerous small collections of fluid (follicles) and fail to regularly release eggs. The exact cause of PCOS is unknown, but it is clear that the normal balance of reproductive hormones is affected.  One of the greatest concerns with PCOS is how this negatively affects fertility.
Complications Causes-
Infertility
Gestational diabetes or pregnancy
Induced high blood pressure
Miscarriage or premature birth
Type 2 diabetes or pre-diabetes
Sleeping disorders
Depression, anxiety and eating disorders
Abnormal uterine bleeding
Endometrial cancers
16:35 - Question Answer Session with live Audience
Taking and answering the questions of live audience
25:58 - Acknowledgement
Thank you for having us on your therapeutic journey